Tourist trip to Saumur
With its large reception capacity, the Jardins du Puygirault is the ideal place forreception of your tourist group in Maine-et-Loire.
Whether you are the organizer of bus trip, bus operator ou tour operator, we have the solution to welcome your tour groups at reduced prices.
Give your users the benefit of a unique site, organized in the form of an educational trail retracing the origins of the cultivation of vegetables and herbs from 10 years ago to the present day.
Classified by the Heritage Foundation, the Jardins du Puygirault represent more than 14 gardens that can be visited spread over 2 hectares.
Guided tour for groups
We offer guided tours in French / English as well as texts written in French, English, German and Dutch.
Travel by bus and tour operators
Take advantage of a large shaded car park with a capacity of 20 coaches, perfect for bus trips or tour operators, completely new infrastructures accessible to people with disabilities or reduced mobility, picnic areas available.
Responsible: Mr. Stéphane MICHON
Saint-Hilaire
49400 SAUMUR
Tel: 02.41.50.70.04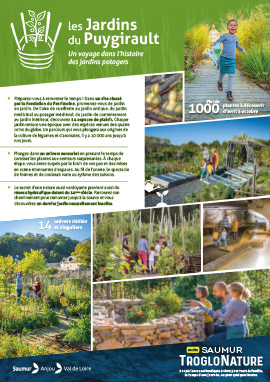 Rates (price per person)
Solo ticket 1 entry
Duo ticket 2 entries
(Garden of Puygirault +
Stone and Light or
Mushroom Museum)

Trio ticket 3 entries
(Gardens of Puygirault +
Stone and Light +
Mushroom Museum)

Price with friends
(30 people minimum)

€7,50
(instead of € 9)
€13,00
(instead of € 15)
€16,00
(instead of € 20)
Price school
(25 people minimum)

€6,00
(instead of € 7)
€9,00
(instead of € 12)
€12,00
(instead of € 15)
With our solo, duo and trio entry offers, enjoy your visits according to your wishes and without time limit and benefit from reduced rates on your multi-site tickets.
Location
From the A11 towards Saumur A85.
On A85 exit N° 3 Saumur and on A87 exit N° 26 Saumur.
Then in Saumur, follow the direction of Gennes on the banks of the Loire.
The Jardins du Puygirault are located 1 km from the exit of St-Hilaire-St-Florent.