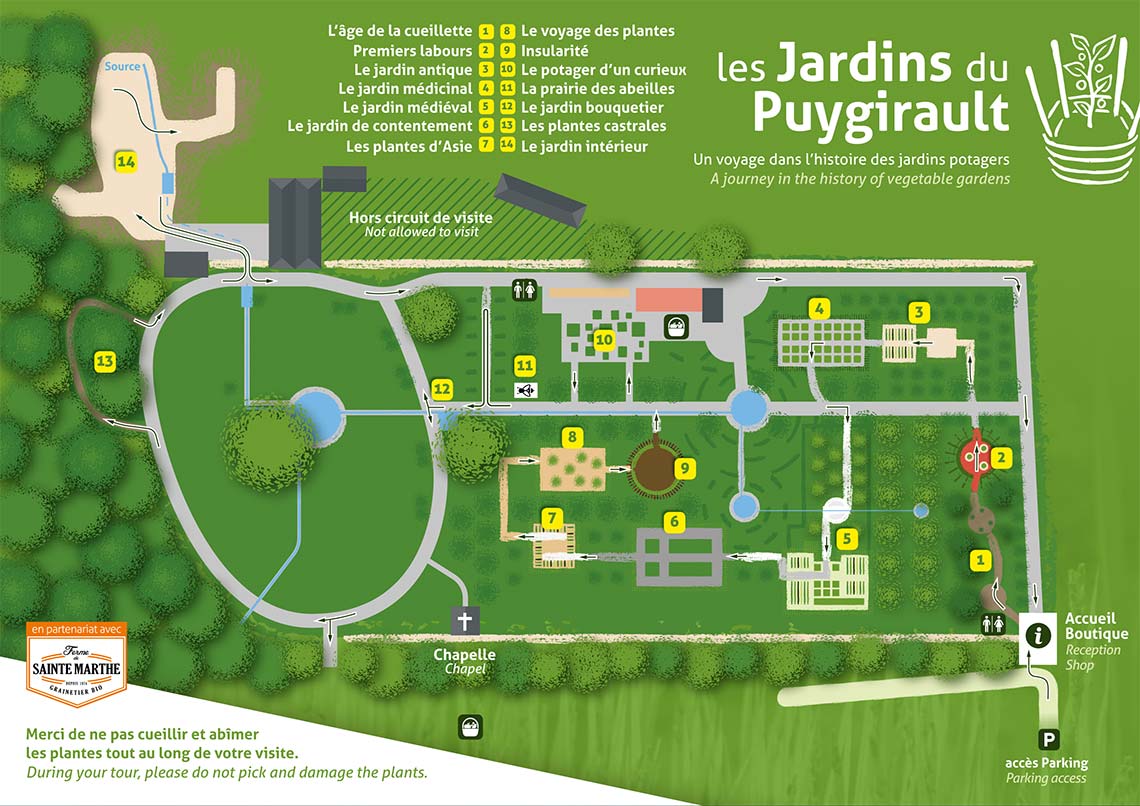 The history of plants that humans have encountered throughout their journey on earth
The place offers a travel in space and time, a sort of chronology of the relationship between man and plant, starting with the time of picking and ending up at the present time.
By the way you will have crossed the ages in the middle of a large orchard with for each space a scenography, a particular staging with different ground materials, various boundaries, fences and hedges ...
Dedicated areas:
Picking Age and the relationship to our wild plants,
First plowing, the birth of agriculture less than 10 years ago and the evocation of African plant cultures
Le Garden Antique and the vegetable from Roman colonization
The Medicinal Garden and closed knowledge, plants that heal
The Medieval Garden and its stronger relationship to plants with vegetable plants, pleasure plants and meditation plants
The Garden of Contentment inspired by Olivier de Serres' theater of agriculture, a good part of agronomic progress
Asia, Asian plants, rice, young shoots, spices
The journey of plants or the beautiful American both tubers from the Andes and fruit vegetables from our ratatouille (excluding eggplant)
The insularity, exotic plants born from new lands, recent volcanic resurgences
The vegetable garden of a Curious and the plant diversity and the great acclimatizations of the 19th century, we welcome the great botanist travelers
The meadow of bees composed of multiples flowering plants mellifers and its pollinators
The Bouquetier Garden, the pleasure of magnifying plants and celebrating the virtues and beauty of flowers
The Castral Plants traditionally planted for ornamentation and naturalized for a long time
The Interior Garden, where we go back to the source of all life, literally and figuratively.
Respect for nature
Throughout the walk, the notions of respect for our planet in gardening are perceptible.
This garden is intended as a place of education, a didactic space for environmentally friendly practices.
Making soil, green manure, compost, nourishing the soil, covering it are essential concepts of respect for the soil and its fertility.
Plant fruit trees and climbers.
Work on movable structures supporting plant development with local materials inspired by the work of Treillageurs.
A beautiful part to the Plants without enemies.
The true relationship with Plant Seasonality with Perennial Vegetables, Generous, the taste for diversity source of balance.
Make your seed and give it away, exchange it.
Our relationship to the Auxiliaries with in particular the establishment of a melliferous meadow
No use of phytosanitary products.
The pleasure of offering and magnifying the plant with the bouquetier.
The taste with the discovery of all these plants and their flavors.